Offices went through a phase where they became sterile and lifeless in an effort to improve efficiency, but the only thing this achieved was making working environments soulless. Dull office designs do not benefit anyone, and, in today's work, they can affect your mental health and work output. If you want top talent, you need to give your employees a place they love to work in. This means it needs to be well designed, comfortable, and feel like home.
Your employees spend so much time in your office, and putting some investment back into your office's design will pay off massively. If customers or clients come by, then you have the added bonus of better impressing them with your headquarters.
Focus your efforts and see significant results by using these five tips: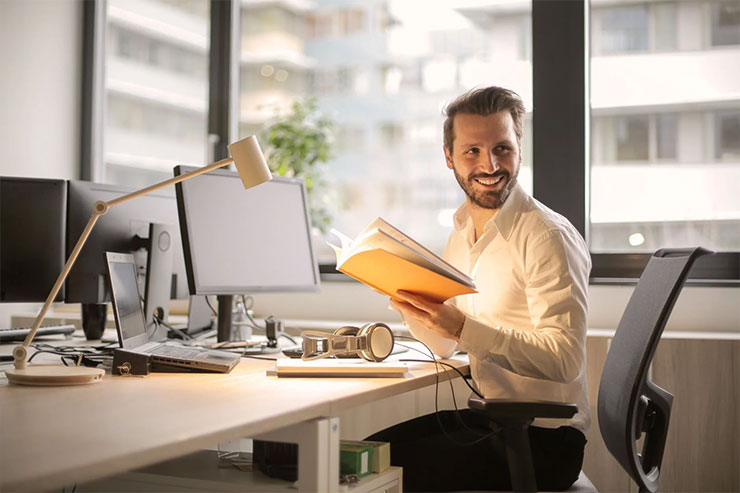 1. Give it a Fresh Coat of Paint
White is the standard color to make a space feel brighter and more spacious, but it isn't the only color available. Blue and green can help boost creativity and promote better stress-management. Painting your office has the added benefit of making a corporate space feel more homely.
2. Have Two Lighting Modes
White light helps people wake up and can be so very useful for boosting productivity throughout dark days. When the sun sets, however, you should allow employees to switch from those white overhead lights to a more natural yellow light. It is cozier and will actually help them better regulate their circadian cycles.
3. Spruce Up the Exterior
It is essential to fix up your exterior if you have clients or colleagues visiting. Not only do you want to make a good first impression, but you also want to advertise to anyone driving by. What you can do will be limited to your lease. If you own the property, you can go all out, but if you lease, you'll be limited to your signage and what the property owner is willing to fix.
New Surfacing
If you have control over how your parking lot looks, then take control. Car park paving can be more than dreary and monotonous; it can work towards making customers feel welcome from the moment they park their car. A lighter-colored, resin surface can even work to cool down your entire building during the summer.
New Lights
Your sign needs to be well lit day and night, but so too do the walkways and the parking lot. This way, you can make your customers and employees feel safe.
New Signs
If your sign is outdated, it's time to change it. Hire a professional design company to bring your logo and sign into the modern era.
New Landscaping
From flower boxes to the landscaping around your parking lot, there is a lot to do regardless of whether you have a lease agreement. If you can, add options that offer double-benefits. A tree can cast shade over your roof in summer and reduce your energy bill. Evergreens planted along your walls can provide increased insulation.
4. Add Artwork
Add art on the walls, office plants as statement pieces, and generally, don't be afraid to decorate your office as you would a home.
5. Furnish it Like a Home
This doesn't need to be done all at once, but do try to pick out furniture items for your break room and office spaces that are beautiful and comfortable. Think like you are decorating your home, and you'll create a perfect home away from home for your employees and clients.