If you personally own or operate a truck, you know how hard it can be to keep up with the maintenance of the truck and help it avoid damage. Protecting your truck is not always about just driving it safely and protecting it from accidents on the road or rash driving. Your truck can experience plenty of damage just from regular use and the effects of the sun.
When it comes to protecting the overall finish of the truck's paint job, a good couple of layers of wax go a long way in protecting it from the sun. For the tires, you just need to make sure you use the right type of tires for the right application. To protect what is under the hood, make sure you do not put the truck under a lot of stress and keep the maintenance and fluid levels optimal.
One part of the truck that can experience significant damage from normal use is the bed. If you have bought a new truck, you need to understand that protecting the bed is going to be essential. Truck beds come with a protective layer of bed liner that will protect your investment, but over the course of time, that lining comes off.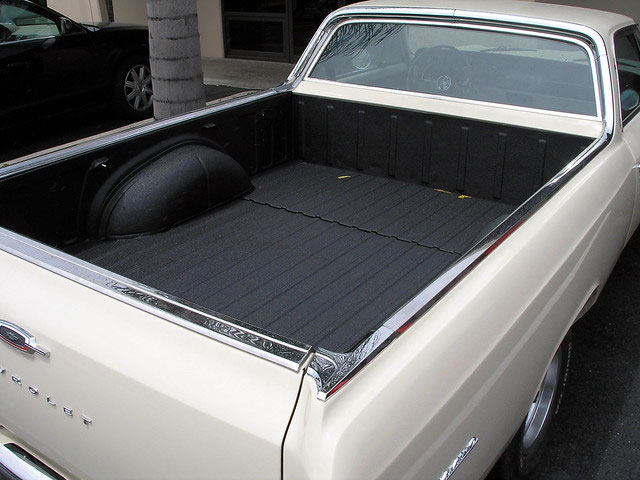 Utilizing bed liners like Speedliner can make a big difference when it comes to protecting the bed of your truck.
Two Types of Bed Liners
Now, there are two different kinds of liners for the truck bed: drop-in and spray-on. Drop-in bed liners are pretty easy to install and take off. They can be helpful when it comes to cleaning the truck, but they have their issues. Despite being simple to install, they have several weak points, which can cause severe damage to your vehicle. This essentially makes them useless for protecting your truck in the long run.
Spray-on bed liners are the better option to consider. Yes, the fact of the matter is that they are more expensive than your average drop-in bed liners, but they also provide you massive value for money in the long run.
Advantages of Using a Spray-on Bed Liner for Your Truck
A lot of people consider drop-in bed liners for protecting their trucks rather than spray-on bed liners because they require you to make a lower initial investment and they can be simple to install and take off.
A spray-on bed liner, on the other hand, offers you a lot of advantages, which can definitely offset the higher cost and difficulty of application to protect your truck for a long time. Here are some of the most important advantages of using a spray-on bed liner for your truck:
Saves a lot More Space
One of the biggest advantages that spray-on bed liners present over drop-in bed liners is space. When you use drop-in bed liners, they will use up some of the space within the bed. If you need to use all the space that you can get, a spray-on bed liner will be much better for your truck. It is applied as a thin layer on the surface of the truck bed without taking up any space.
Prevents Installation Damage
Perhaps the biggest issue when it comes to installing a drop-in bed liner is that it does not exactly just 'drop in'. You need to bolt it on to the surface of the bed of the truck in order to install it. That means the installation can cause a significant amount of damage to your truck and affect its overall value.
Provides Comprehensive Coverage
Drop-in bed liners have small gaps and holes in them to compensate for bolting them on to the truck's bed. This means that there are areas which they will not be able to protect. A spray-on bed liner will reach all those hard to reach spots and provide the entire bed proper coverage.
Prevents Damage from Shifting Cargo
If you own a truck, you will probably be hauling a bit of cargo here and there on a regular basis. Having a spray-on bed liner will help you make sure that the cargo does not damage the surface of the truck bed (if it shifts during transportation). If you do not use a bed liner, you can expect the surface of the truck bed to get dinged up pretty badly. When it comes to repairing those scratches on the truck bed, it can end up costing you quite a bit more than what it would to use spray on bed liner.
Prevents Sun and UV Damage
There are chances that you might have to leave your truck out in the sun. Now, you can use wax to protect the paint job in the rest of the body and window screens to protect the interior of the truck. That still leaves your trucks bed exposed to all the UV and sun damage. Luckily, using spray on bed liner can protect the actual surface of the bed in your truck from direct sunlight and UV damage.
Prevents Rusting and Corrosion
If you happen to live somewhere with plenty of rainfall or if the climate is just humid, you know how bad rusting can get. A spray-on bed liner does not just protect your truck's bed from the sun, but it also provides a comprehensive protection against all the elements. Expect a waterproof protective layer that will not let the metallic surface of your truck react with the humidity in the air.
Low Maintenance
Drop-in bed liners are susceptible to damage over time. They can also accumulate quite a bit of dirt and dust through the gaps. You will not have that kind of problem with spray-on bed liners. You can easily add more coats to a spray-on bed liner as it starts to wear out without worrying about replacing it. It also does not leave any space for collecting dust and dirt. It's pretty low maintenance work so life is pretty easy with spray-on bed liners.