Are you a fan of watching the most amazing shows and movies on Paramount Plus? Do you also own an Amazon Prime subscription? Learn how to watch Paramount Plus on Amazon Prime.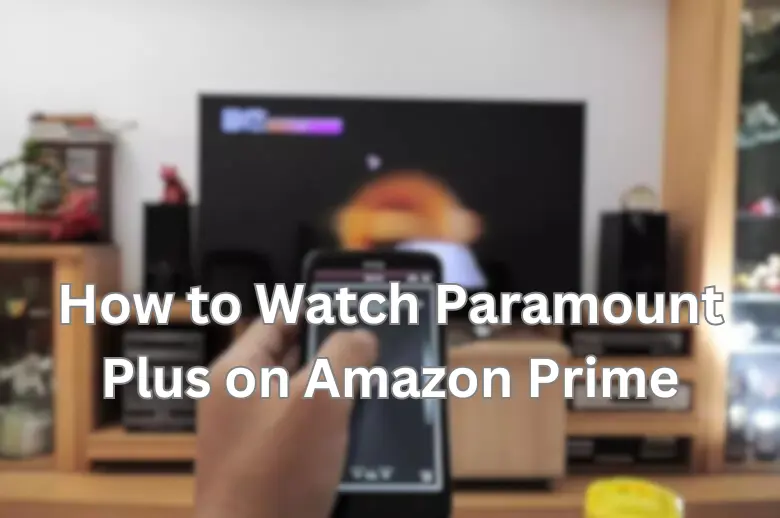 What Is Paramount Plus?
ViacomCBS's Paramount Plus, known initially as CBS All Access, is a subscription-based streaming service. It offers diverse content, including movies, TV series, and original programming. CBS, BET, Comedy Central, MTV, Nickelodeon, and Paramount Pictures are among the networks and studios represented by ViacomCBS's Paramount Plus service.
Subscribers to Paramount Plus have access to a wide library of old and latest television series, live television from their local CBS station, and unique original material created just for the streaming platform. This service has grown in popularity among fans of shows such as "Star Trek: Discovery," "The Good Fight," and "The Twilight Zone," as well as those interested in streaming sports and breaking news. Viewers can enjoy their favorite material on their terms because MTV Plus is available on various devices and platforms.
Does Amazon Prime Allow You to Watch Paramount Plus?
Yes, you can watch Paramount plus Amazon Prime. Paramount Plus is available through Amazon Prime Video Channels. This collaboration allows Amazon Prime customers to access Paramount Plus content within the Amazon Prime ecosystem conveniently. You can enjoy a vast range of movies, TV shows, original series, and more from Paramount Plus by subscribing through Amazon Prime, all integrated into your Amazon Prime Video experience.
Also Read: How to Stream Paramount Plus on PS4?
How to Watch Paramount Plus on Amazon Prime?
1- Set up an Amazon Account
You must have an Amazon account to use Amazon Prime and subscribe to Paramount Plus via Amazon Prime Video. Here's how you can make one:
"Sign up" through the Amazon home page or select "Create your Amazon account."
Fill in the necessary information, such as your name, email address, and a strong password.
Now press the "Create my account" option.
2- Subscribe to Amazon Prime
You must have an Amazon Prime membership to watch Paramount Plus on Amazon Prime Video. After you've created your Amazon account, proceed as follows:
Access your Amazon account.
Go to the "Prime" tab at the top of the Amazon home page.
Click "Try Prime" and choose a monthly or annual membership option.
Enter your payment information and follow the on-screen prompts to finish the signup procedure.
3- Add Paramount Plus to Your Amazon Prime Account
To watch Paramount Plus on Amazon Prime Video, you must first sign up for an Amazon Prime account. Here's how it's done:
Go to Amazon Prime Video Channels after becoming an Amazon Prime member.
Look in the search bar for "Paramount Plus" or "Paramount+."
Once you've found the channel, click the "Free Trial" or "Subscribe" option (depending on whether or not Paramount Plus provides a free trial period).
To subscribe, enter the required payment information and follow the on-screen instructions.
4- Installing the Amazon Prime Video App
The Amazon Prime Video app can access and stream Paramount Plus content on many devices. To install the app, follow these steps:
Go to your device's app store (e.g., Apple App Store, Google Play Store, Amazon Appstore).
Look for "Amazon Prime Video" and install the app.
Sign in to your Amazon Prime account within the app when installed.
5- Using Paramount Plus Through Amazon Prime
After completing the preceding steps, you can now access and stream Paramount Plus content on Amazon Prime Video. Here's how it's done:
Sign in to your Amazon Prime account and open your device's Amazon Prime Video app.
Go to the "Channels" section, and you'll see that Paramount Plus is one of the channels accessible in your subscription.
Select Paramount Plus and begin browsing the extensive library of content available, which includes original series, movies, and classic TV shows.
Following these steps will allow you to experience Paramount Plus content within the Amazon Prime ecosystem, giving you various entertainment alternatives.
Also Read: How to Stream Paramount Plus on Dish?
How to Cancel Paramount Plus Through Amazon Prime?
Canceling a Paramount Plus subscription obtained through Amazon Prime is possible using the Amazon Prime Video Channels platform. Here are the procedures to cancel your Amazon Prime subscription to Movies Plus:
Visit Amazon's Website: If you haven't already, go to the Amazon website and sign in to your Amazon account.
Access Your Prime Video Channels: To access your Prime Video channels, log in and go to the "Prime Video" area. On the Amazon website, this is normally found in the upper navigation bar.
Manage Your Channels: Look for the option "Channels" or "Manage Your Channels." You can manage your subscriptions here.
Find Mount Plus: Look for Mount Plus in your list of subscribed channels. It should be included.
Cancel Paramount Plus: Next to Paramount Plus, select "Cancel Channel" or a similar option. To confirm the cancellation, follow the on-screen instructions.
Email Confirmation: You should receive an email confirmation once the cancellation is complete. Keep a copy of this for your records.
Also Read: How to Fix Paramount Plus Not Working On Vizio TV?
What Shows Should You Watch on Paramount Plus?
Packed with shows from various genres, PBS Plus is an excellent streaming option for movie and television fans. What you should watch is up to you, but here are some popular shows and exclusive material available on Paramount Plus:
1- Star Trek Series
Several Star Trek series are available on Paramount Plus, including "Star Trek: Discovery," "Star Trek: Picard," and "Star Trek: Lower Decks." These are must-see shows for sci-fi fans.
2- The Good Fight
A spin-off of "The Good Wife," this courtroom drama series has gained critical acclaim for its timely and thought-provoking plots.
3- Yellowstone
A modern western drama starring Kevin Costner, "Yellowstone" has a devoted fan base thanks to its engrossing storytelling and character development.
4- SpongeBob SquarePants
If you're seeking family-friendly programming, you can watch the beloved animated series "SpongeBob SquarePants" and its spin-offs on Netflix.
5- The Twilight Zone
This anthology series, reimagined for a new audience, examines fascinating and thought-provoking stories.
6- The Stand
Based on Stephen King's novel, "The Stand" is a gripping and terrifying post-apocalyptic miniseries.
7- The Challenge
If you enjoy reality television, "The Challenge" provides hard physical competitions and drama.
8- 60 Minutes+
60 Minutes+ is the streaming version of the renowned news magazine show that provides in-depth reporting on various issues.
9- Younger
Younger is a comedy-drama series about a lady in her 40s who pretends to be in her 20s to relaunch her career.
10- Why Women Kill
Why Women Kill is a dark comedy-drama anthology series that follows three women of various ages battling infidelity and murder.
FAQs
Can I watch Paramount plus on Amazon Prime?
Absolutely! You have the ability to stream the Paramount+ channel through Prime Video. Additionally, once you've confirmed your Paramount+ credentials, you can also stream content on paramountplus.com and through the Paramount+ app.
What is the cheapest way to get Paramount Plus?
Here are some general ways to potentially save money when subscribing to Paramount+:
1. Promotional Offers
2. Bundle Deals
3. Annual Subscription
4. Student or Military Discounts
5. Gift Subscriptions
6. Free Trials
Do prime members get free Paramount Plus?
No, it is not one of the free services offered, but there is a way to test it without getting charged. To date, Amazon Prime Video offers the Premium ad-free plan for the Paramount+ channel at $9.99 per month.
Conclusion
Paramount plus Amazon Prime service provides a convenient and versatile method to access premium content. Subscribers to Amazon Prime will now add Paramount Plus to their streaming portfolio, expanding their viewing experience with a vast selection of content. The connection streamlines pricing and access, making it easy to experience diverse episodes, movies, and unique programs.
Also Read: