Whether you're taking a quick weekend trip or an extended vacation, there are always essential travel items you're going to need. Planning for a trip can leave you with lots to think about, so here's an easy checklist to help you stay organized.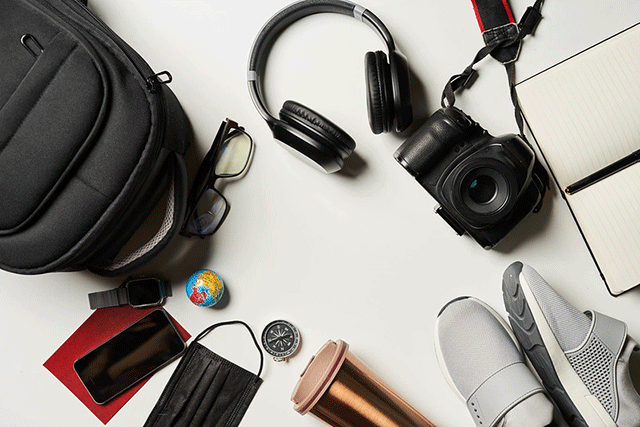 A Portable Charger
A portable charger is a must to make sure you have access to your phone on the go to browse, message, take photos, and have access to emergency calls. This should be in addition to your normal charger so that you have a backup option. Always make sure to keep this within arm's reach, too, such as in your hand luggage rather than the bottom of your suitcase.
Your Passport
While an obvious item, it's easy to forget this hidden in a drawer at home if it hasn't been used in a while. Preparing your passport early and setting it out in full view is a good idea. Keep your passport on your person at all times, and when you've used it to get through the airport, store it somewhere safe.
A Reusable Water Bottle
Traveling is a very tiring experience, and staying hydrated when taking a trip — especially to hot countries — is essential. A reusable water bottle can help you to more easily do that and help you save money on constantly buying disposable water bottles. This is a must-have if you're taking a trip where you know you'll be doing a lot of sightseeing, hiking, or a lot of physical activity.
Protective Cases
Fragile items can get battered and bruised during transport, especially if packing in a suitcase. Protective cases can help to cushion your key items and keep them safe during excess movement. This could be a cushioned case for your laptop, iPad, or even a solid case for your sunglasses, like from Just-glasses.co.uk.
A Copy of Any Confirmations
Most booking confirmations will be digital these days, but it's still important to save a copy of them on your device, so you don't have to search through everything to find them or risk missing them all together (especially if you're at the head of the queue and can't find what you need). Even if you do save a digital copy, a paper copy as a backup may be a good idea — if your battery on your device died unexpectedly, how would you be able to show your confirmation?
Backup Clothing Items
When packing for a trip, most people will think of what they need to wear day by day and choose a selection of outfits for their needs. You should also think about backup clothing, however, because what would happen if you lost your suitcase, or if you had an unexpected spillage? You don't want to depend on only one set of clothes for a purpose, so always have a spare option.
Closing Thought
Packing for a trip can be overwhelming, and even more so if you're responsible for others, like children or other family members. It's a good idea to start a checklist and plan as early as possible so that you can find everything you need.