Whether their disability is due to illness or accident, it doesn't necessarily mean that the individual will also have to be unhealthy and dependent. The severity, origin and nature of the condition may make it particularly difficult in some cases, but it's still possible to stay fit and healthy in most situations.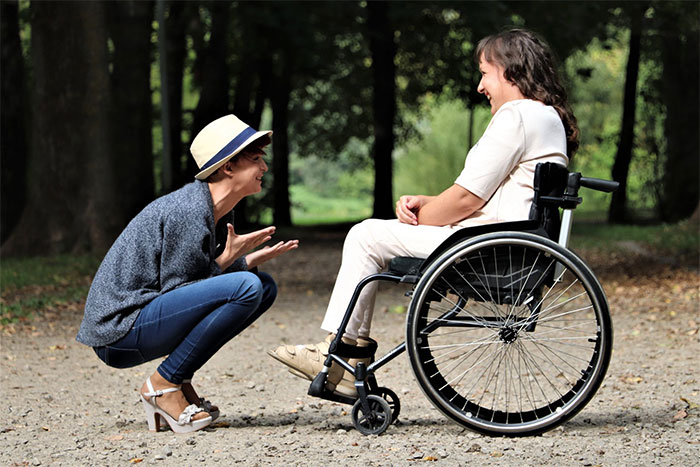 The Very First Step: Truly Understanding the Limitations
The very first step would be to gauge the problem at its source and then estimate what limitations the current disability has imposed on the individual. The answers to the following questions should be particularly beneficial for getting a proper estimation regarding the extent of one's disability.
Is it permanent or temporary?
If it is temporary, can you speed up the process with physical therapy?
If it is permanent, what are the maximum limits?
Will stretching the limits damage the body further?
Are there specific dos and don'ts related to the condition in terms of both diet and exercise?
It might require quite a few sessions with doctors, physios, dieticians and fitness trainers, but once someone has a proper, medically verified estimation of what to expect and avoid, staying healthy and independent will become much easier without jeopardizing one's present health conditions further.
Independence is Important to Its Full Possible Extent
Living alone is not something that is advised for most due to the associated risks of injury and even demise in extreme cases. However, the more independent one tries to remain, the more likely they are to stay strong psychologically and physically.
The internet has opened up so many avenues for staying fit, healthy and independent for those with disabilities that there is no practical reason to not use them!
For example, instead of relying on someone else to bring them their meds, anyone can now go online and order their prescriptions from www.pharmacyonline.com.au on their own.
The same applies to any other medical or nutritional supplies, groceries, clothes, services and nearly everything else under the sun. If you need something, there is probably a website selling it online, perfectly deliverable to the buyer's home address.
There are also dedicated physio and fitness sites on the web that offer personal training via video conference. These may turn out to be a cheaper option than getting in-home personal training and getting out of the home without assistance for training may not be a possibility.
Differentiating Between Psychosomatic and Medical Symptoms of Disability
A common issue that often plagues those with a disability, and absence of the limbs in particular, is phantom pain and psychosomatic symptoms. While there are a lot of complicated concepts at play here, the main idea is that it is important for a disabled individual to identify what their limitations actually are and which ones are manifested by the mind.
It can be extremely difficult to understand or even know the difference in between the two, but with the help of doctors, therapists and physios, one can learn to do so properly and with increasing success in time. It has been found that, once patients are able to fight through their psychological debilitations, they often end up getting through psychological symptoms such as depression and anxiety better than before, which contributes to a fitter, less dependent and more fulfilling lifestyle.