If you haven't revamped your bathrooms in a few years, you may find yourself becoming bored with their appearance. An old, outdated bathroom may take away from the excitement or function of the room. As the feeling of boredom with your bathroom begins to grow, the idea of updating that portion of the house may grow with it. But where do you start? There are so many new trends, and it can be hard to make a decision, but we have some ideas for you.
One of the latest and most attractive ways people are updating their bathrooms is by incorporating quartz. If you aren't familiar with it already, man-made quartz is a mineral made up of silicon and oxygen atoms. A quartz bathroom offers style, elegance, and a few other features you won't find with other options. Unlike other popular stone slabs, such as granite or marble, quartz is non-porous, meaning it's able to resist staining more easily. Aside from not taking in stains, being non-porous also means it's able to resist bacteria and viruses that are known to hang around bathrooms.
There are so many ways to incorporate quartz into your bathroom. Adding it is a great way to create a space you enjoy being in that is both functional and visually pleasing. If you're still unsure of how to include a quartz bathroom into your home, don't fret. EleMar Oregon has tons of options to choose from when it comes to man-made and natural stone projects. If you're in the area, you can visit one of our showrooms or check out our idea center online. We'll help you create a bathroom that will have you and your guests in awe. In the meantime, you can get inspired by these five ideas for how to bring your bathroom back to life using quartz.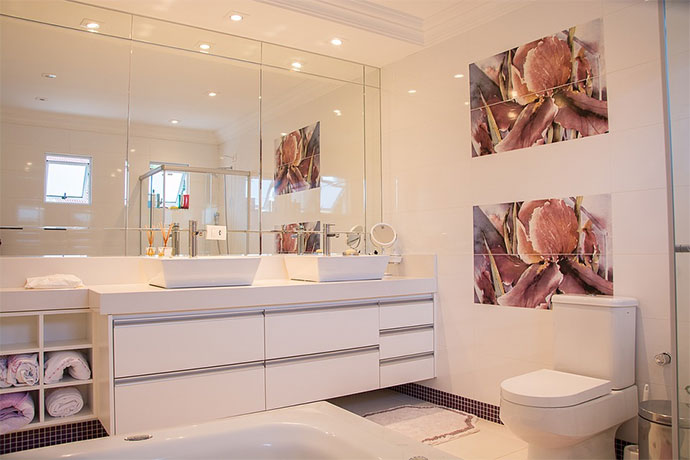 Sink Countertop
By far the most popular option, a quartz sink countertop is the perfect way to update your bathroom. It can give your bathroom a clean look and is a great, long-lasting update to start with. Celebrities like Neil Patrick Harris and David Burtka are known to have used quartz countertops for bathrooms in their own house. They decided that Caesarstone was a company they could trust with their quartz countertops, which is a brand that we love working with at EleMar Oregon and offer at all of our warehouses.
Because bathroom sinks are used generously, and germs are known to linger around this area, a non-porous countertop is a must-have. Though other stones seem similar in appearance, quartz stands out with its ability to keep bacteria away. A non-porous quartz countertop prevents germs from seeping into the surface, which in turn prevents them from spreading. Cleaning up stains is an easy process with quartz and usually only requires a soft sponge and water.
Shower Walls
A great way to bring a fresh new look to your shower is to add a quartz wall. Though tile is a popular choice for revamping the inside of a shower, they come with a few downsides. Installing typical tile requires grout to be used to seal the pieces between the tiles. This porous substance can be problematic and is susceptible to staining. It can quickly take away from the beautiful tile in a bathroom if not cared for on a consistent basis. Grout can give out and cause your tiles to fall and break due to the wet environment of a shower.
The benefit of having a quartz shower wall is that it's installed as one piece. This means no grout, no different-sized or varying colored tiles. The wall will be one uniform piece and create a clean and elegant look in your shower. A non-porous quartz shower wall will also aid in shower cleanliness and resist stains that come from soap and toiletries.
Quartz Ledge
Don't feel ready to commit to a full wall of quartz in your shower? No problem. There are other ways to get quartz into your bathroom that can also contribute to overall shower storage. With a much smaller amount of quartz, you can add a ledge or a shelf to your shower. Adding a shower ledge can be a great place to store soap when it's not in use and to know that the wetness of the soap won't seep into the stone. A quartz shelf can also provide great storage for shampoos and shower gels.
Another quartz ledge option is to place it above or around your sink. To maintain cleanliness but also to add to the decor, a ledge above your sink can be a great place to decorate with small plants or pictures, or a nice place to keep things like toothpaste. Placing a quartz ledge on the sides of your sink is another great place for small plants or even more practical things like hand soap.
Bathtub Deck
Take your bathtub to the next level of relaxation by adding a quartz bathtub deck. Quartz will provide a clean, durable surface around your tub while also creating the perfect way to transform your tub into a restful experience. You can make it your own by adding a few plants or some artwork. Create a feeling of calming ambiance by placing candles around your bathtub, and you may never want to get out.
Shower Bench
The bench is coming back in modern-day bathrooms. Once thought of as old-fashioned or just for older people, shower benches are a great addition to any bathroom update. And a way to make the update even more modern is to have the bench surface be made of quartz. In addition to all of the previously mentioned bacteria control it aids in, a quartz shower bench looks and feels stunning in the shower. It provides a stabilizing space to sit down and enjoy the steam or a space to prop one's leg and assist in shaving. If nothing else, it's another great way to create more storage space inside the shower.
No matter which option you choose, updating your bathroom with quartz is a decision you'll be happy with. It's durability and sleek appearance will stand the test of time. Find a local supplier, and if you're in Oregon, visit us at EleMar. For years we've been providing homeowners in Oregon with the best natural stone options for any project.