Gardens provide immense enjoyment to a majority of households in the UK; according to recent data, around three-quarters of all UK adults have access to a private garden, and over half of us find joy in our garden spaces.
But sometimes gardens can feel more like a chore than they should – and even work against us in terms of relaxation. How might you go about turning your garden into the relaxing spot it deserves to be, and that you deserve to enjoy?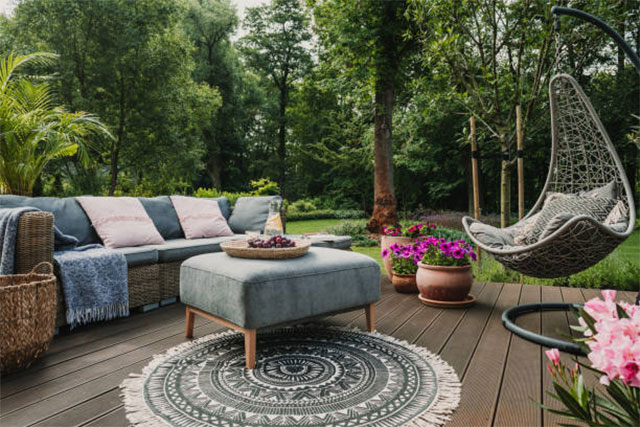 Colour Choices
One of the simplest mistakes that the budding gardener can make in attempting to create a relaxing space relates to color. Even relatively pared-back garden spaces can feel stifling, simply by virtue of clashing colors in flowerbeds, fence planters, and wall hangings. Not only can clashing colors overload the senses a little, but different colors can also inspire different moods – with some oppressive colors working against your aims for your garden.
You could bring a sense of air and space to your garden by leaning into plants with white or cream flowers. Crowborough lilies and Delphinium Galahad are beautiful choices for a leafy but un-busy flowerbed and can serve to bring calm to your garden sidings.
Keeping Tidy
Of course, clutter itself can have a direct impact on the sense of space in your garden. Unkempt hedge sidings and untidy treelines can leave a garden feeling shabby and 'close', while rampant weeds and plant debris tarnish patios and pathways.
A regular rota for tidying your garden will keep you on top of your outdoor spaces, and ensure they remain the perfect place to relax without simply noticing your next job. Tidying your hedges with a cordless hedge trimmer can become a five-minute job if done every fortnight, as opposed to once a season. Likewise, regular weeding prevents flowerbeds from getting crowded and preserves the health of your lovely white flowering plants.
A Comfortable Spot
An often-overlooked element to crafting a beautiful, relaxing space is furniture. Many of us rely all too commonly on unappealing plastic garden furniture, or a hastily-placed picnic blanket to enjoy our outdoor spaces. Not only can their aesthetics impact your enjoyment of the garden, but so too can their temporariness. Some small, simple investments in outdoor or patio furniture can make all the difference in giving you a comfortable outdoor space. Even a small bistro set with some all-weather cushions can provide you with a comfy place to enjoy a morning or evening coffee. If you like to entertain, an outdoor sofa set with a covering pergola could be an excellent option for comfortable outdoor lounging.
Invite Nature In
Lastly, a garden can be a temple of sorts – a testament to your efforts and patience, especially where immaculate flowerbeds and garden sidings are concerned. But sometimes spaces such as these can feel a little sterile.
The solution is to let nature in. By planting wildflowers and bird-friendly trees, you can encourage animals to nest in your garden. Birdfeeders can bring beautiful birds in for you to enjoy from your outdoor seating, and bee hotels can ensure your garden remains vibrant for years to come.