If you want to ride you bike easier and faster, shift its speed wheels smoother, you can make some improvements in it. Use these easy bike tune-up tricks and maintaining tips, which don't require for you to have any special tools or knowledge. They will make your bike run smoother and safer without any risks of accidents for you.
First you should provide regular cleaning and lubricating of your bike chain. When the chains and sprockets of your bike get filled with grit and dirt or become gummy, they make your bike slower and wear out very fast. Clean and lubricate your chain to prevent that of happening. This should be done every time you reach mileage of a thousand miles you have ridden your bike. More often cleaning and lubricating of your bike chain should be done when you ride on dirty or dusty places and roads. For this purpose you can use some lightweight oil for bikes. Don't use motor oil because it is too heavy. Use only lightweight oil and remove the excess quantity.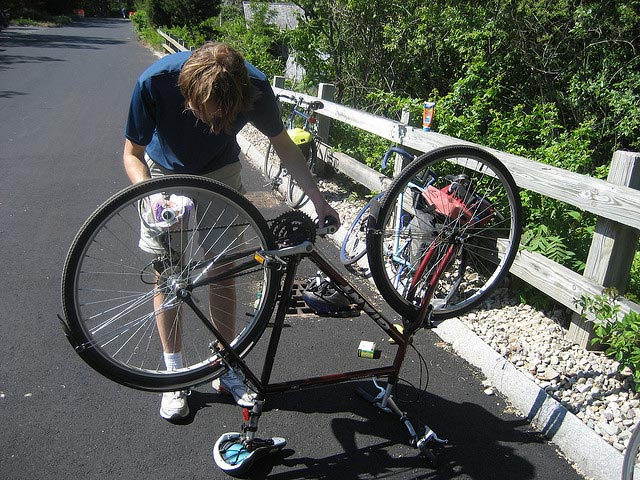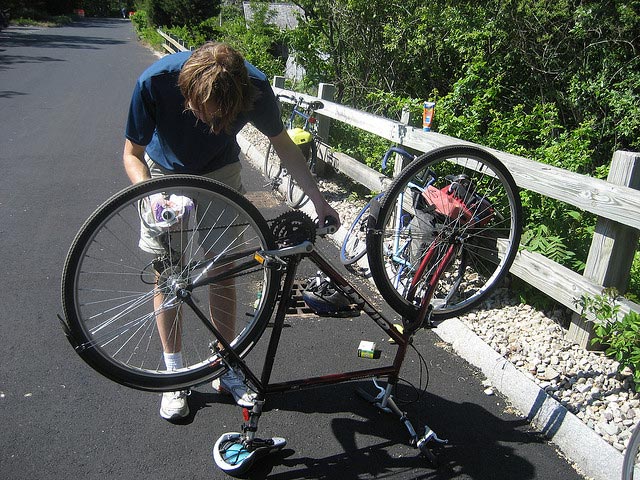 You should lubricate the moving metal parts of the dérailleurs and brakes of your bike regularly. They easily get dirt, grit and moisture. Pivot points on the dérailleurs and brakes are located on a such place on your bike that they easily get dirty and filled with grit. They need regular lubricating and cleaning. Lubricate all metal parts of your bike which move around and against each other.
You certainly need to check your break pads for any problems which may require fixing. First you should check if your break pads are correctly aligned. The break pads are the rubber items which make your rims to slow down every time you press the brake levers of your bike. Make sure they hit the rims smoothly and fluently without missing the rim or rubbing the tire. Your break pads should be toed-in. This means that every time you lightly push the breaks, the main edge of the pads should touch the bike rim first. When you push the brakes harder you should have full contact with the rim. This will fend your bike from creaking.
You need to inspect your break pads for wastes, attached to them. Pay more attention to the surface of your break pads in the area where they touch the rims. Using some sharp tool, a knife for example, remove all metal or sand particles you find, fixed to the pad. This way you protect your pads from wearing out and creating scratches on your rims. After you remove all particles of grit and sand you find, your break pads will have more reliable stopping power.
And last but not least of importance, you should check up the pressure on your tires. It is one of those things that most people underestimate, but it has a massive impact on the performance of the tires. By checking the air pressure of your tires you extend their life, keep your rims safe from damage, provide easier pedalling and reduce the chances to get a flat tire. It is advisable that you check the air pressure in your tires every time before you plan to ride your bike.
By cleaning your bike parts regularly, checking the pressure on your tires and doing general maintenance work on your bike, you can save yourself from accidents and keep your bike in a great condition. Use these easy bike tune-up tricks and maintaining tips to improve the performance of your bike and extend its life. They doesn't require special knowledge or instruments but done properly and regularly can cut your expenses on bike repairs and replacing of bike parts.
The article is contributed thanks to MainCleaners SW12.