Contemporary style is all about building something that feels modern and yet timeless. It's a difficult balance to strike but it can do wonders for the overall look and feel of your home and give it a great deal of resale value. Nowhere is this more relevant than in the bathroom, where contemporary design has been increasing in popularity for decades. Creating a contemporary bathroom can give your home a unique luxury detail, but what features do you add and why?
Contemporary style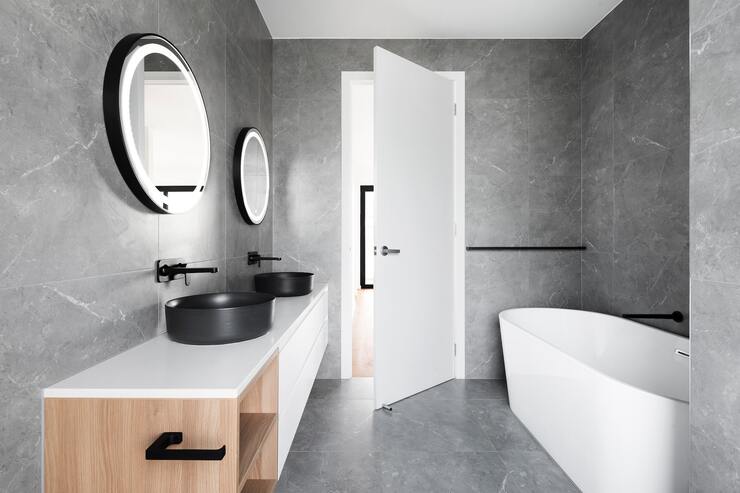 The bathroom has lots of potential for a contemporary and luxurious feel thanks not only to the appliances used within it but the relative ease to redesign as bathrooms tend to be the smallest rooms in the house. But perfecting that contemporary refit means focusing on a few key areas.

Choosing the right materials – The materials you use will play a big part in the final image of the renovations. Choose modern and sleek materials such as vinyl tiles for the flooring and ensure that the fittings are all made from sleek steel or brass. The color of your fittings should also be taken into consideration, with matte black a very modern and sophisticated choice.

Finding the right radiators – The radiators in the bathroom can take up a lot of space if not taken into consideration. Utilizing vertical radiators in your bathroom will help to free up space by making use of more vertical wall space while doubling up as a towel rack for bath and hand towels. Radiators can also be used to add a subtle contemporary style if you choose to use aluminum over stainless steel, for example, or opt for a less conventional radiator shape.

Drawers and cabinets – The use of drawers and cabinets in your bathroom will help define the style of the room. Using a modern cabinet that doubles as a bathroom mirror will help to generate a luxury feel, for example. Make sure all drawers and cabinets look sleek and provide the functionality to the room and don't take up any more space than necessary. Consider mounting more cabinets on the walls, above the sink, and above the bath.

Lighting – A modern and contemporary bathroom needs to be well-lit and bright enough that you can see what you're doing without blinding you. You can do this by adding new lighting fixtures with more efficient and brighter LED bulbs. You should also place mirrors in the bathroom to enlarge the space and increase light around the room. If you really want to make the most of the bathroom and bring lots of natural light in, meanwhile, you could always install a skylight. 
Cleaning – Nobody enjoys cleaning the bathroom but it's something that really should be done at least once a week if you want to keep it looking fresh. Contemporary and dirty are not two words that go well together so if you want to keep your bathroom looking contemporary, keep it clean!