The MacBook Air is an excellent option for those who want a lightweight device to work "on the go". However, light and compactness could be better with high processing power when discussing a MacBook with Intel processors. But that doesn't mean you can't upgrade your MacBook Air for better performance. Let's tell you what options gamers and content creators have to extend the Air's capabilities.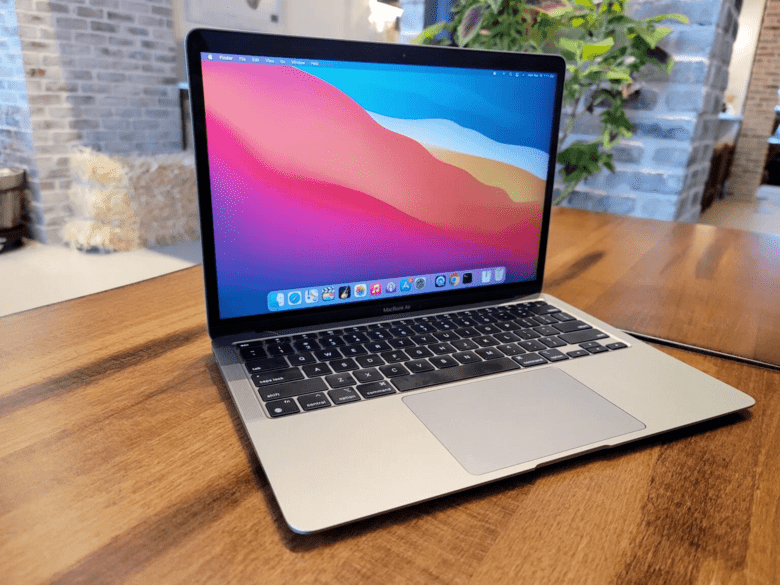 SSD replacement
As you know, Apple uses an SSD in all Air models. But at some point, you may need more capacity. If you originally bought the base version of the Air, you might haven't thought about using the device for graphics, video, or starting to play games. And for that, sure you could buy an external hard drive. But if it's an HDD, its speed will be slow (which probably won't work for you), and an external SSD will be noticeably more expensive not to mention the fact that the extra accessory will make the laptop less portable than it is. Either way, upgrading to a larger SSD is an excellent option if you're short on disk space.
If you own an Air released before the end of 2018, you have two options:
Buy an original SSD for the more advanced MacBook model.
Use a compatible SSD from a third-party manufacturer.
In the first case, you'll have to disassemble the device, remove the old drive and install the new one. Second, you must buy an adapter since Apple also uses special connectors.
For owners of Air on Intel 2018 or later, things are more complex. The thing is that Apple has changed the design of newer laptops. They sold most of the MacBook Air parts including the internal memory to the board. But even in this case, not all is lost, as you can use another way.
Replacing the logic board
It is the best option to upgrade your MacBook Air. As you know, many models come in versions with different chips. For example, devices before 2017 were available in Core i5 and Core i7 processor versions. Thus, you can upgrade your laptop running i5 to i7. Find a compatible board from an older model and install it on your computer.
Replacing the logic board is the only way to upgrade the RAM on your device. Apple does not equip any Air model with separate RAM strips. They are on the board. So if you have an Air running a Core i7 with 4 GB of RAM, the only way to add extra capacity is by putting in a new board.
As for late 2018 Air owners, replacing the logic board will allow you to upgrade the amount of RAM (from 8 GB to 16 GB) and increase the amount of internal storage. You can install up to 1 TB of storage on the device, which will help you work with a lot of footage, photos, and other projects and allow you to install more games on the device.
However, if you bought your MacBook Air with the M1, you won't be able to upgrade your device. Apple has limited everything on the MacBook M-series, so there's nothing to do but buy a better-performing model.
What are interchangeable parts?
Separately, we'd like to discuss a significant upgrade to your Air. As you know, Apple rarely changes the design and construction of its devices. The same applies to internal components.
Sometimes, you can upgrade MacBook Air parts by putting in a new device's logic board. All 13-inch models from mid-2013 to 2017 have interchangeable components. In other words, you can turn an older Air into a more modern one without much effort. Plus, you'll be able to install a newer version of macOS, making your device faster.
Of course, you'll have to consider whether such an upgrade is worth the money. But in most cases, it's a cheap way to boost your laptop's performance without buying a new device.
Where to look for MacBook Air parts
The most obvious solution is to look for a used MacBook with more performance hardware on Amazon and eBay. But this option can only be called something other than budget-friendly. At the very least, you're overpaying for parts you don't need, and testing the right components for performance is challenging.
Instead, it's better to use MacBook Air parts services. For example, at appleparts.io, you can easily find a suitable component to upgrade your laptop. One of the advantages of this service is a multi-stage check of components before they go on sale. You can also buy other parts for your Air here, such as the original battery, LCD screen, thermal modules, stubs, and cases.
Upgrading your MacBook Air parts is a reasonably budget-friendly option to get a more productive device for gameplay and creative tasks. Just read the instructions, and you can easily handle the procedure.