Have you lost important files or everything stored on your Mac partition?
Don't worry; there are several Mac partition recovery methods available online that you can try to restore data from the lost partition on Mac.
There are several reasons for this issue. In this post, we will discuss several quick methods to recover data from lost partition in Mac.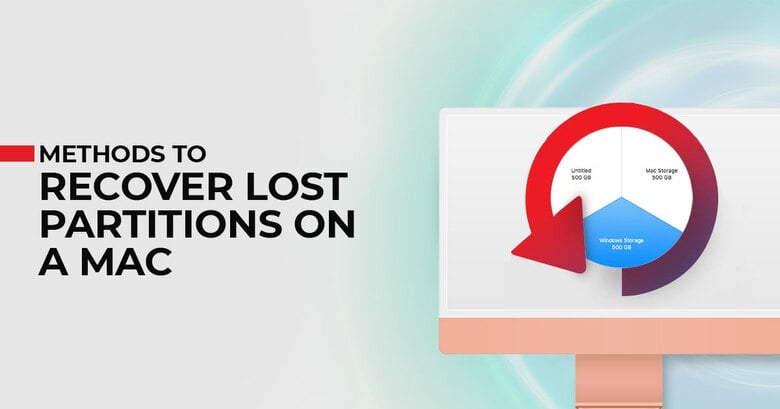 Different Types of Disk Partitions on Mac
A partition is a logical region that acts as a separate storage area on macOS devices. In Mac, we have the following partition types:
APFS (Apple File System): This is the default file system used by macOS 10.13 or later versions. This Mac file system focuses on security and encryption. It offers better data handling in comparison to other partition types.
HFS+ (Mac OS Extended): This file system is compatible with older macOS versions (macOS 10.12 or earlier). However, it is still available to use and considered a good option for older Macs or for cross-compatibility. You can use it on all mechanical and hybrid drives as it comes with many essential features.
eXFAT: Extensible File Allocation Table or eXFAT is a cross-platform and upgraded version of the FAT file system format. The FAT file type is useful for volumes of more than 32 GB and exFAT is for those, which are 32 GB or less.
What Causes Deletion of Data from Partition on Mac?
Before you learn the methods to recover data from lost partitions on Mac, it is important to know why such issues occur. There are several reasons why partitions may be lost or deleted. Some of these include:
Hardware Issues: Hardware-related problems like overheating of Mac drives can directly affect the data stored on them. Most of these hardware failures consider non-avoidable and can randomly corrupt your disk drive.
Sudden Power Failure: There may be a lack of adequate power supply on your device and this lead to a sudden system shutdown. Such sudden system shutdown may affect various tasks on your Mac device, like OS update, BIOS update, partition loss, etc.
Virus or Malware Attacks: Some virus or malware attacks on your Mac device can corrupt disk drives without any warning. If your drive has been affected by such a threat, it may cause the sudden deletion of personal data and files.
Incorrect work with Disk Utilities: Sometimes the deletion of any one partition leads to the failure of others. This makes the entire drive inaccessible. Even if there are issues like power loss while writing information, partitioning the drive, or formatting the OS on Mac, this makes the hard disk inaccessible.
How do I Restore Deleted Data from the Partition on Mac
Whatever is the cause for the loss of disk partitions on Mac devices, it is important to apply proper methods or use Mac data recovery software to restore deleted data. In this part of the blog, we have provided several methods that you can apply one by one to restore your deleted data.
If you want to use any software to restore the permanently removed or damaged partition, you can use Stellar Data Recovery Professional for Mac.
However, before proceeding with any such recovery software, try the following manual methods:
Method 01: Restore Deleted Partitions Using Disk Utility
You can use the Disk Utility tool to fix a corrupted partition directly on your device. Here is how you can recover data from lost partition using disk utility:
Go to Launchpad and click Disk Utility to open the app.
Now, click on View from the top menu bar and then select Show All Devices.
Select the volume that you have to recover and click the Restore button.
After that, go through the on-screen instructions to complete the recovery process.
Method 02: Restore Files Using Time Machine
Time Machine, the in-built feature tool of Mac can automatically backup the data of different data types (apps, music, videos, photos, and much more). 
You can use this in-built tool to restore files on your Mac device. All you have to do is:
First, launch Time Machine from the Menu bar located at the top.
Click the "Enter Time Machine" option from the drop-down that appears.
Select the backup folder and click the Restore option.
Method 03: Use Data Recovery Software
If the above-mentioned methods to recover data from lost partition in Mac fail, you can use professional Mac data recovery software to recover the lost data. Among several such recovery software available online, we recommend you to use Stellar Data Recovery Professional for Mac.
To restore data from lost partition using this software, you need to:
Download and install the Stellar data recovery professional for Mac software from its official website.
Once the software gets successfully installed, you need to select the data that you want to recover. Just choose any specific data type or all suggested file types and click the "Next" button.
Now, from the Recover From the window, select Can't Find Volume and click Next to continue.
After that, tap on the Lost Volume (always indicated with a red flag), and select the Deep Scan option located in the bottom-left corner. Tap the Scan button to start the Scanning process.
Once the Scan is completed, select the files you need to restore. Also, click the Recover button to save the selected files at the desired location.
How to Select the Best Partition Recovery Software?
Before selecting any partition recovery software to recover deleted partitions, you must consider some points in your mind. Check out the following points in the recovery tool that you want to use:
Compatibility: It is important for the Mac data recovery software that it should be compatible with the macOS version installed on your device. Only opt for a tool that is compatible with a variety of storage and operating systems.
Key Features: Make sure the software you are selecting to recover data from lost partitions on Mac offers some extra features. These features include advantages, like repairing and bootable USB creation for recovery from crashed systems.
Pricing and versions: The recovery software that you are going to use must not be too expensive. Go through all the versions of recovery software and then select the one that best suits your requirements.
Wrapping Up
Hope, the above methods will help you to recover data from lost partition in Mac. If these manual methods fail to recover the data from your Mac partition, you can use third-party recovery software like Stellar data recovery professional for Mac.
This Mac data recovery software helps you to restore deleted partition in no time. Even the data professionals at Stellar will also protect your data while applying the recovery process.