Living in a big house and not realizing its potentials is like living near the sea and not going for a swim every day – it's simply a waste of possibilities. There are a number of things you can change in your home to make it more fun and efficient and one of those is a home theatre. If you have a spare room and a huge love for cinema, you can combine the opportunity and the need into a great experience that offers countless hours of enjoyment for you, your family and friends.
Contemporary home theatres can accommodate up to twenty people and really make your house stand out and be more special and modern. However, there are two sides of the coin for having a home theatre much like for everything else, so let's explore some of the pros and cons.
Comfort of your home
Starting with the most obvious – you have a cinema experience at your own house! The luxury of not having to get out of the house in order to experience cinema quality movie time is something you can't put a price on. For many people who don't like crowds and noisy people in movie theaters, this is a perfect getaway.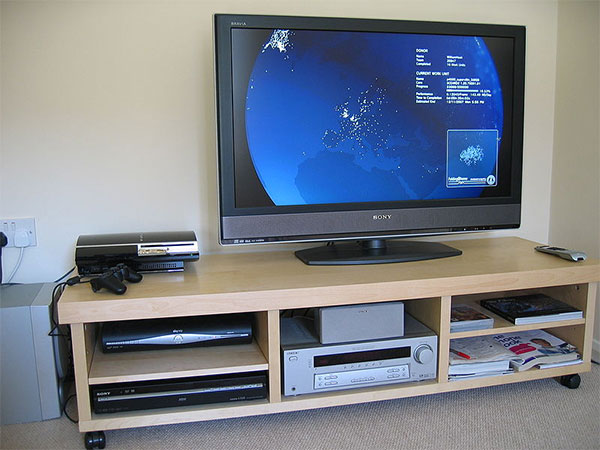 Photo by Wikimedia Commons
Investment which pays off
Although it might seem a bit pricey, if you are an avid cinema fan and spend a lot of money every month on movies, having a home theater can save you a pretty penny in the long run. Not to mention the time needed to get to the theater and back which you could spend in the comfort of your home – watching another movie! Check out this buyers guide to make sure you don't overspend your money on things you don't need.
Stop & Go
Another perk of being in control of the screening is that you can always press pause, take a break, make more popcorns or snacks and then continue and never miss another detail from the film. Or continue the next day, for that matter!  Pretty neat, right?
Lazy days
You know those days you just want to lie in bed the whole day and do nothing more than watch movies and relax? Well, get your pajamas ready and don't bother with your appearance cause you're the boss here. Watching the Oscars ceremony, NBA All-Star Game or binge-watch your favorite TV show in HD quality for hours and hours, not worrying when it's time to go home. Because you're already there!
Can you afford it?
Of course, not everything is always fine and dandy. First of all, you need to consult your bank account whether you can afford this luxury in the first place. Some home theatres are costly, especially if your screen is non-standard size or if you want a particular brand of seats. On the other hand, you can also find some more affordable models and fit in your budget as long as you plan it carefully.
Installation
Although it might seem like an easy task, home theatre installation can be tricky. If you don't know exactly what you're doing, it's better to leave it to professionals in order to avoid damaging the equipment or not installing it properly. This will also incur a certain cost to the final price.
The real deal?
For some people, going to the cinema is like an age-old ritual and many view it something of special importance. Though home cinemas can feature big screens, they will never match the size of big white canvas in regular theaters. If you are of the type who prefers the cinema ritual and its hustle and bustle just the way it is, home theaters are probably not an ideal solution for you.
In Conclusion
It all comes down to personal preference. If you are easily annoyed by distractions from other people in movie theaters like ringing phones and chattering, home theatre might be a perfect solution for your troubles – provided that you can afford it. If you have an extra room – ultimately, it doesn't even have to be really, an average-sized one will also suffice – and love watching TV and movies, you should consider getting a home theatre. If on the other hand, you view movie theaters as institutions and hold them dear just the way they are with all their imperfections, you should probably stick to your routine and put the idea of home theater on a shelf perhaps for a different time in your life.