The most frustrating thing about picking out the perfect outfit is trying the ideal piece of jewelry to go along with it. It is great to have choices when it comes to jewelry but you need to ensure that the piece of accessory does not turn you into something dreadful. You are not alone in this struggle. Women across the world are stuck in this situation week after week.
A lot of women spend an average of 90 minutes every week wondering about what to wear. Even with a wardrobe full of clothes and accessories, women find it difficult to make a choice. The best you can do is make informed decisions when it comes to accessorizing. Even though you own statement pieces, you need to keep in mind that the same cannot be paired with anything and everything. For every type and style of outfit, there is a unique piece of jewelry that will blend in and you need to learn the trick to pair it in the right manner.
Learn how to coordinate your jewelry to the fullest in order to bring out the best of your outfit.
It is an art to pair your outfit with the right type of jewelry and if you learn the same, you will always be the center of attention at every occasion. When you pick a piece of jewelry, keep the outfit in mind and make it work for you. Do not simply wear something because you own it.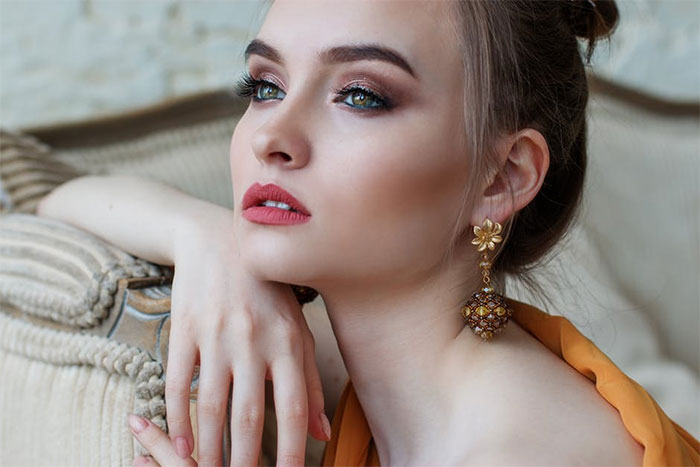 Pick jewelry that fits the occasion
Most of us tend to pick an outfit keeping the occasion in mind but if you randomly choose your jewelry, you will not look your best. Dangling wrist jewelry will not work well if you have to spend the day typing on the keyboard. In case you are dressing for work, you might want to skip hanging bracelets. Your choice of jewelry for work or for an evening at the club will not be the same. You need to consider the occasion, the place you are headed to and whether it is a formal event or a casual event in order to pick jewelry for the day. There is something like wrong jewelry for an occasion and you would not want to be a victim of the same.
Pair simple jewelry with busy patterns
If you are wearing a busy print, you should not wear a loud piece of jewelry with the same. It will ruin the entire look. Wild jewelry and busy prints are a big no-no. You should consider bracelets, earrings and watches in place of loud and showy accessories. You also need to keep the material of the outfit in mind. If you are wearing a heavy dress for an occasion, ornate jewelry could come off as tacky. You can pick one of the 14k gold chain that is trending and pair it with your heavy dress. With a heavy outfit, always keep it simple in jewelry.
Highlight your face with statement earrings
You might be wearing a perfect dress but if you want to highlight your face, you can do so with ease. All you need to do is grab a piece of statement earrings and highlight your eyes. The glittery earrings should be bought keeping the shape of your face in mind. You need to pick pieces that will bring out the facial differences that make you unique. If you have a heart shaped face, you need to consider drop earrings which do not taper at the end. Women with oval faces need to consider studs and triangular earrings in order to show off their cheekbones.
Pick pieces of jewelry that compliment your skin tone
Men and women should always keep their skin tone in mind when picking jewelry. Women who are at the top of their game always know how to highlight their skin tone with their jewelry. You can learn more about your skin tone when you look at your wrists under natural sunlight. This is when you will notice the veins on your wrist and understand the metal that you should choose for yourself. Silver is a metal which illuminates the most natural skin tones. In contrast, gold will go with darker hair and matte skin. Cooler skin tones are ideal for gems that are purple, blue and red in color. Individuals with cooler skin tones should pick white gold and the ones with warmer skin tones should pair yellow metals with gemstones in orange, yellow and green.
Mix warm jewelry with cool colors
Certain gemstones like rubies, amber gems and diamonds can make a statement for itself. They are fiery colors and can blend well with black or white. However, not many are aware of the fact that the same can be paired with other colors like plain blue or purple material. Wear a set of rubies over a royal blue top in order to make a bold statement.
Mix cool jewelry with warm colors
The art of matching colors in fashion is not known to everyone. A lot of stylists refer to the color wheel to find inspiration and to introduce new colors to the world. For example, dark blue gemstones and deep green gemstones are ideal for a yellow or orange backdrop. Accessorizing is all about striking the right balance between the cool and warm colors. You need to try your best to coordinate the jewelry and outfits to find the best opposites and make it work for you.
Diamond's are always a girl's best friend
This is a well known fact and there is no denying it. Diamonds have always been a girl's best friend and will remain so for many years to come. One of the most popular gems, diamonds can be paired with anything. If you are not sure how to wear your jewelry with an outfit, you can opt for a pair of classic diamonds. It will show off all the colors which make up the composition and will make you stand out in the crowd.
With sea colored clothes, wear white pearls
Pearls are found in the sea and they compliment the shades of the sea. Right from the stormy gray to aqua and deep blue, the sea gems can be best paired with different shades of ocean water. Pick your pearls after you have decided on the outfit you intend to wear.
Black, white and gold
You need to wear jewelry which is black, gold or white with classic and elegant attire. Do not overdo it. You can wear the perfect black cocktail dress with the bright gold jewelry or onyx gemstones. Your little black dress showcases black gems like an art. Always pair these colors with a simple but elegant outfit.
Match cool colors and a summer attire
Welcome the freshness of spring with cool and natural colors. You can try gemstones like green peridot or a blue topaz with neutral patterns of fabrics. You can turn this outfit into something that is inspired from the nature by blending the colors together.
There is a lot of research and knowledge required to wear your jewelry like a star. These insider tips can help you nail the perfect look and save you some time from picking out your outfit. Buying jewelry might be easy but pairing it with the right outfit is the real deal. If you nail it right with the right outfit and jewelry, you are ready to rock.