ESPN+ and NHL.tv are popular choices for NHL fans to watch hockey games. However, they both have blackout rules that can be frustrating for viewers in the US and Canada. These rules are in place because of licensing agreements that prevent them from streaming certain games live. As a result, some games may not be available for viewing on these platforms in specific regions, leaving fans disappointed.
So now the question arises " How to watch NHL blackouts on ESPN ". In this article, you'll find a list of ways you can use to bypass the ESPN blackout.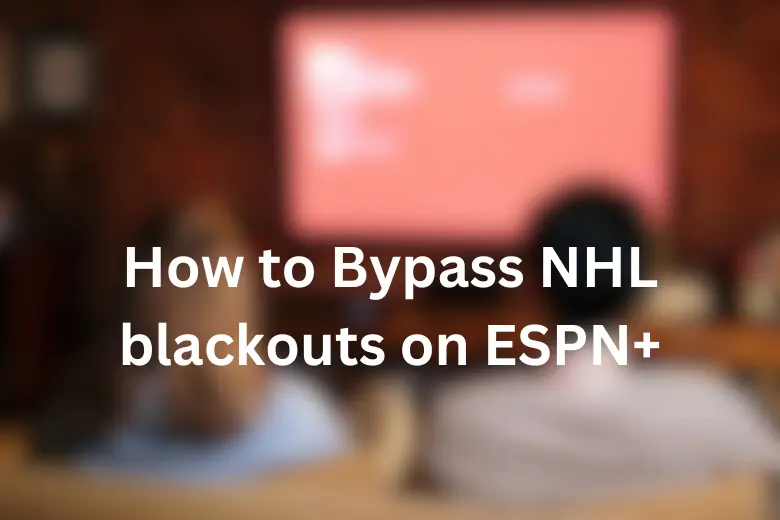 How to bypass NHL blackouts on ESPN+
To get around ESPN blackout and watch NHL games in your local area or from other regions, you can use a VPN. A VPN will alter your IP address and connect you to fast servers in places where the game you want to see is not affected by blackouts. This way, you can enjoy the games without any restrictions, no matter where you are located.
Learn how to watch NHL blackouts on ESPN+ using a VPN with these easy steps:
Browse our recommended VPNs. We suggest NordVPN or ExpressVPN, which have extensive server networks in the US.
Install your chosen VPN.
Download and set up the VPN on your device.
Connect to a server where the NHL game is not blacked out.
Choose a server location where the game you want to watch is not affected by blackouts.
Once connected, sit back and enjoy the NHL game without any restrictions!
In this way, you can watch ESPN plus blackout NHL games without any hesitation.
Read Also: Can you get the ESPN App on LG Smart TV?
What are Regional Blackouts?
Regional blackouts are a strict type of restriction that prevents certain NHL games from being viewed online in specific states, in addition to blocking overseas users. But why do these blackouts happen, especially when ESPN+ and NHL.tv subscribers have already paid to watch?
The main reason is that the NHL sells the broadcasting rights of its games to local networks in different regions. This means that if you live in a particular area, you can only watch games involving the local teams on the designated regional broadcast network. Each team has its own local broadcaster; for example, the Maple Leafs have Sportsnet Ontario as their local broadcaster.
To determine your location, NHL.tv or ESPN+ use three main methods. First, during registration, they may ask you to provide your ZIP code, which helps them get a general idea of where you are. However, this method can be easily bypassed. To enhance accuracy, they also use IP-based geolocation, which relies on your IP address to determine your approximate location.
For mobile devices, location-based tracking is often used, as it's a bit harder to trick your GPS location compared to changing your IP address. While you can turn off GPS, some services may not allow you to watch anything without it.
Best VPNs to bypass ESPN+ Blackout NHL
It's essential to understand that not all VPNs can successfully overcome blackouts on ESPN+ or NHL.tv while providing a smooth and enjoyable watching experience. That is why we prefer using Fast VPNs which provide better speed.
1. NORD VPN
NordVpn is the perfect option for you if you want to stream espn+ blackout NHL games. They have a massive fleet of 5700+ servers, with around 2000 servers in the US alone, organized by cities. Moreover, you can access over 60 different countries to unlock content blocked in those regions. You can give it a try with their 7-day free NordVPN trial available on the Google Play Store.
With NordVPN's exclusive NordLynx protocol, you don't have to worry about slow connections as they guarantee top-notch performance. Additionally, if you have older devices, you can still use the classic OpenVPN tunneling protocol.
2. Surf Shark VPN
If you want to avoid NHL blackouts and access a wide range of international content, Surf Shark is a great choice. They have a network of 3200+ servers, with over 600 servers in the US across 25 cities, making it easy to switch between states. Additionally, you can connect to around 100 other countries to access content from abroad. You can try out Surf Shark with their 7-day trial to see if it suits your needs.
Surf Shark ensures fast connection speeds with the presence of WireGuard. If you prefer, you can also use IKEv2 or OpenVPN, depending on what works best for your system. They also offer a NoBorder Mode to hide your traffic and bypass VPN restrictions, making it useful in areas with heavy internet censorship.
For NHL fan clubs with multiple devices, Surf Shark is perfect because one account supports unlimited connections. These features make this VPN a good choice to stream espn+ blackout NHL games.
With Surf Shark discount codes, you can enjoy affordable prices starting from $2.30 per month. And if you're uncertain about signing up, remember they offer a 30-day money-back guarantee for your peace of mind.
3. IPvanish
IPVanish is a great VPN choice for bypassing NHL blackouts. It boasts 17 server locations in the US, ensuring you'll always have access to a well-performing server for streaming. With a total of 2200 servers across 52 countries, including 17 in the US, IPVanish offers a diverse selection to cater to your streaming needs.
When it comes to speed, IPVanish excels at using the leading WireGuard tunneling protocol, maintaining over 90% of your original connection speed. This stability allows you to watch espn+ blackout NHL games without interruptions.
IPVanish is also an excellent option for streaming various services due to its fast speeds and strong unblocking capabilities. Plus, the VPN allows unlimited simultaneous connections, so you can watch NHL games on as many devices as your subscriptions permit.
With a 7-day free trial and a 30-day money-back guarantee, IPVanish offers a risk-free way to test its service. Prices start at just $3.33 monthly, making it a budget-friendly choice for NHL fans.
Read Also: What Channel is ESPN Plus on Verizon Fios?
How to Bypass NHL Blackouts on a PC or MAC
When using a PC or Mac, you can unblock blacked-out NHL matches just like any other geo-blocked service. Connect to a VPN server in a location where the game you want to watch is not affected by blackouts. After that, go to the NHL.tv or ESPN+ website and log in. If you're unsure about which teams have blackouts in your area, you can use a helpful tool provided by the NHL to check.
Usually, your content should load quickly, but if it doesn't, there's no need to worry. Sometimes, websites store location information in your browser and block access, even if you're actually in the right region. To bypass this, try clearing your browser's cache and deleting cookies. You can also force a hard refresh by holding the CTRL key (Shift on Mac) and clicking the refresh button. By following these steps, you can watch your favorite NHL games without any regional restrictions.
FAQ's
Is it legal to use a VPN to bypass hockey blackouts?
Yes, it is not illegal to access geo-restricted content using a VPN. However, it is essential to note that it might violate the terms of service of the streaming service you are using. In our extensive research, we have not come across any instances of individuals being banned for using a VPN to evade NHL blackouts.
Can a VPN slow down my internet connection and affect my live game streaming experience?
Certainly, using a VPN may slightly slow down your internet due to encryption and rerouting, but it usually won't disrupt live game streaming. The impact is minimal, allowing for a smooth streaming experience in most cases.
What are the best VPNs to watch NHL blackouts?
NordVPN, ExpressVPN, Surf Shark, IPVanish, and CyberGhost are the preferred VPNs to watch NHL blackouts.
Why is there a blackout on ESPN+?
Blackouts on ESPN+ or any other streaming service often occur due to licensing agreements and regional broadcasting rights. Sports leagues and organizations may have exclusive deals with certain networks or broadcasters for specific regions. As a result, certain sports events or games may be subject to blackout restrictions in certain areas to protect the rights of local broadcasters.
How do I get around ESPN+ blackout?
There are legal alternatives you can consider to watch the content you're interested in:
1. Local Broadcast: Check if the game or event you want to watch is available on a local broadcast channel in your area. Sometimes, games are televised on local networks even if they are blacked out on streaming platforms.
2. National Broadcast: Some games may be available on national television networks that have broadcasting rights. Check if the game is being aired on a national sports network.
3. Sports Bars or Restaurants: Consider watching the game at a sports bar or restaurant that has the necessary broadcasting rights. Many establishments show popular sports events for their customers.
4. Cable or Satellite TV: If you have a cable or satellite TV subscription that includes ESPN or the specific channels broadcasting the game, you should be able to watch it on those platforms without any blackout restrictions.
Wait for Replay or Highlights: In some cases, games may be available for replay or highlights on ESPN+ after the blackout period has ended.
Conclusion
If you have access to ESPN or NHL.tv but can't enjoy your favorite NHL team's games due to blackouts, there's a solution. By using a VPN with servers all over the USA, you can quickly change your IP address and easily unlock the games.
Our recommended VPN to bypass NHL blackouts is NordVPN. It offers over 1970+ servers in 15 American cities and is well-known for its excellent ability to unblock content. We have also provided a guide on who to watch it on your PC. Additionally, NordVPN uses an advanced tunneling protocol to ensure fast connection speeds.
Read Also: