If you intend on going to an exhibition or a trade show to showcase your company, think about having portable roller banner stands. For a fantastic two metre high display, roller banner stands can have graphics, your logo and company name printed on the actual banner. This will make your presence stand out and draw in the crowds to your spot in the trade show. Likewise you can use quality banners outside a retail store or a public building to advertise special deals or events taking place.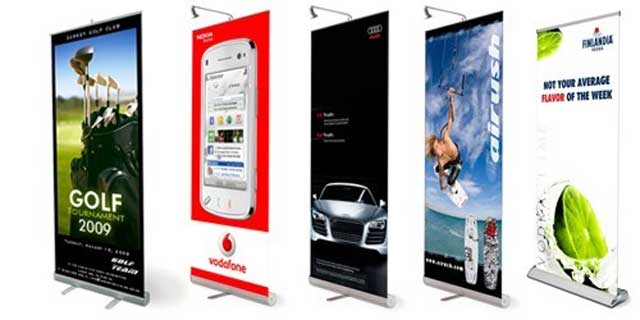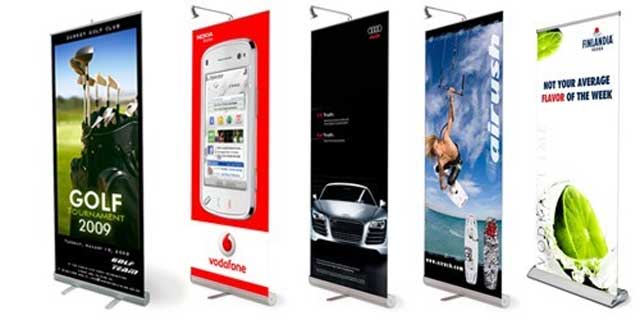 There's a fantastic range of roll up banners to choose from with:-
Simple snap action
Wall or ceiling mountings
Different sizes
Quality fabric graphic options
Roller banner stands
Roller banner stands hold banners that are ideal for using at special events, conferences or meetings. If you have to travel to meet colleagues or prospective clients, stands and banners can be rolled up for easy transportation. Some stands have twist out feet or weighted bases to make sure they don't topple over during use. Why not use the help of online banner suppliers to create a great design on a banner that markets your company to its full potential? Once you have decided on the graphics, style and colour, should you ever need to change anything, this can also be arranged by online suppliers.
Choose reputable banner stand and banner companies
It's always advisable to choose reputable banner stand and banner companies. Using banners is a cost-effective solution to market your business or charity. Banners can be seen from quite a distance away and are easy to assemble.
There's a huge variety of different styles too:-
Pop up display stands with banners
Roller banner stands
Cassette roller banner stands
Tension banners
Advertising blocks
Weatherproof banners and stands
Whichever type you decide to buy, you can expect the following:
State-of-the-art graphics with no edge curling and no de-lamination problems
Delivery within 3-5 days
Help with graphic design or having finishing touches added
Replacement graphics services
Don't forget the accessories
Along with banners, stands, display boards, pop up stands and exhibition stands, there are many accessories to buy such as:-
a)    Leaflet stands and holders
b)    iPad stands
c)    Portable folding tables
d)    Queue barriers
e)    Display lighting
f)    Promotional items like key rings, mugs and pens
Whichever stand or accessories you decide to use, try and make sure that you personalise your marketing material to reflect your brands handwriting. Every bit of publicity for your business counts towards achieving those valuable leads.