Would you like to extend the amount of time that you spend outdoors? There is no worse feeling in the world than a long day in the garden having to come to an end because everybody is starting to get cold once the sun has gone down and the night has drawn in.
That is why an increasing number of outdoor heating products are starting to hit the market. The fire pit obviously isn't a new invention – humans have been gathering around flames for millenniums – but the likes of patio heaters, hot tubs and even heated floors are becoming both fashionable and affordable to the average home owner.
These outdoor heating options mean that summer nights in the garden don't have to end once the temperature drops. They can also allow you to spend more time in your backyard in spring and fall as well.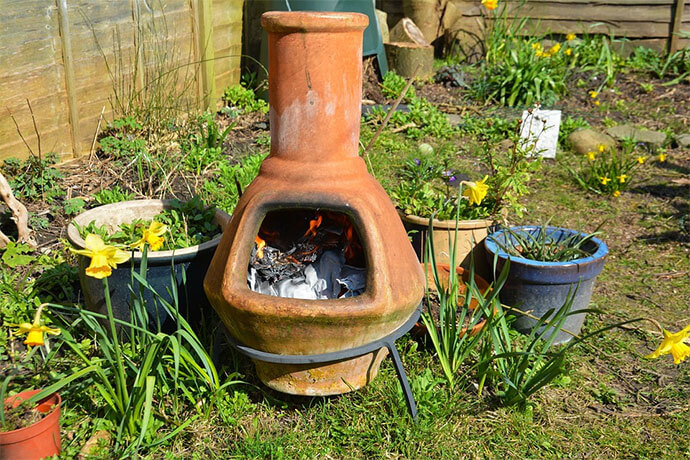 Here are some of the ways in which you can warm up your backyard.
Fire pit
Due to their low cost and ease of use, fire pits are becoming a popular feature of backyards. Traditionally designed to be low on the ground, they can be homemade at their most basic level using nothing more than a hole dug out and a set of bricks to protect the fire. For something a little more impressive, you could purchase a fire pit table like those in the hanamint patio furniture range.
A fire pit table combines the traditional idea of the pit but incorporates it into the center of a traditional patio table constructed of metal, meaning that you and your guests can sit around the warming fire. The advantage of a fire pit table is that it will often be powered by gas rather than wood, meaning that you don't have to worry about state or federal laws relating to wood burning where you are.
Outdoor fireplace
The idea of an open fire raging in a fire pit harks back to our caveman ancestry, but if you want something a little fewer Neanderthal-like then an outdoor fireplace can be the way to go. Just like an indoor fireplace, it's a feature that provides a focal point and can be designed in practically any style that you want. Materials range from brick to stone to concrete to metal, and it can be fueled by gas or wood, again depending on what your local laws allow.
Whether small or grand in scale, an outdoor fireplace will make your backyard feel more like an extension of your house than an outdoor area. Throw some comfy chairs around it, and when darkness falls, you won't even notice you are outside until you look up and see the stars shining above.
Chimenea
You might have never heard of a chimenea before, but you'd certainly recognize one as they are becoming a popular feature of many backyards. A chimenea is a device which burns wood or charcoal and is shaped a bit like a beaker, with a rounded bottom and a funnel coming out the top to take the smoke away. Made out of metal or clay, the chimenea is one of the most inexpensive ways of heating up your backyard, with the key points to remember when buying one being that it needs to be sturdy and it should have a spark screen.
Heat lamps
Heat lamps are exactly what they say they are – essentially, a traditional lamp that gives off heat rather than light. They are cheap to buy and don't take up much room either. Chances are you'll have already seen one in action given that an increasing number of bars and restaurants are installing them for al fresco dining. The average unit can heat up an area of around 15 to 25 square feet and because they are powered by propane, they can be an easy and convenient method of bringing warmth to your backyard.
Hot tub or spa
You might think that having your own personal hot tub or spa installed in the backyard is only for the rich and famous, but one study suggests that 4.6 percent of the American population have at some point in their lives in a property with a spa. Not only is the idea of a hot tub glamorous and relaxing, but it is also a piece of equipment that can heat your garden at the same time.
Picture the scene. After a hard day's work or a long summer walk, you return home and sink into bubbling water heated up to the optimum hot tub temperature of between 100 and 102 degrees Fahrenheit. Not only will the hot tub warm you up, but it will relax your muscles, and they can be used all year round in most weather conditions – including snow.
Heated flooring
More and more American homes are being equipped with heated flooring these days, and the idea of pumping warmth underneath our properties is now extending to patios as well. Heat-carrying pipes can be installed under patios or decks to provide warmth to those sitting on them. In the winter, the system can also be used to melt snow and ice, saving you from having to go through the time and effort of clearing it yourself.
An outdoor kitchen
What is the hottest room inside of your house? It's got to be the kitchen, hasn't it? Nowhere is warmer than a kitchen when the stoves are raging, and delicious food is being prepared and cooked. It makes sense, then, to take everything that makes the kitchen the hottest room of the house and install it outside to warm up your backyard.
Whether you build a brick pizza oven or install a grill for sizzling meat on, an outdoor kitchen will not only warm up your backyard, but it will also give you the option of cooking outside, which is great news for hosting parties in your garden.
Blankets or rugs
Don't fancy any of the features we've listed so far? Then why not go for the most basic approach and just grab some blankets and rugs and snuggle up under them? Sure, it won't have anywhere near the same amount of warmth as a fire pit or patio heater, but a blanket can provide adequate respite when the temperatures start to drop.