The sun is shining, you have a cold drink in your hand and you sit back and watch the world go by, its summer time! This is the time of the year where we all venture into our gardens and soak up the sun with our friends and family. One place many of us will predominantly use in the garden is the decking area. This is the perfect place to sit, relax and enjoy the summer months. Like with most things decking needs to be taken care of and maintained. Following a few simple tips and advice can go a long way to ensuring your decking's survival.
Cleaning:
Cleaning your decking is a great way to ensure its longevity. It doesn't have to be a long and painful task; it only takes a little bit of effort every couple of months. Your first step is to get a good stiff brush and sweep all the debris and mould that is on top of the decking. Once this is all cleared give the decking a wash down with a hose pipe or pressure washer if you own one. The next step is then to acquire a good quality cleaning solution such as the Ronseal decking cleaner. Read the instructions on tub and scrub into the wood. Repeat this as many times as required until you start to see a significant difference. Leave on for the recommended amount of time and then rinse off with a hose pipe or pressure washer.
Prevention:
The best way to protect your decking is to try and prevent any harm that may come to your decking. The best way to do this is with good quality paint such as the Ronseal decking stain. This provides protection for foot traffic and UV protection to help resist colour fade. This also provides slip resistance which is a fantastic safety features for the wet winter months. All you have to do is read the instructions and apply the stain as recommended. It is recommended to give your decking two coats a year.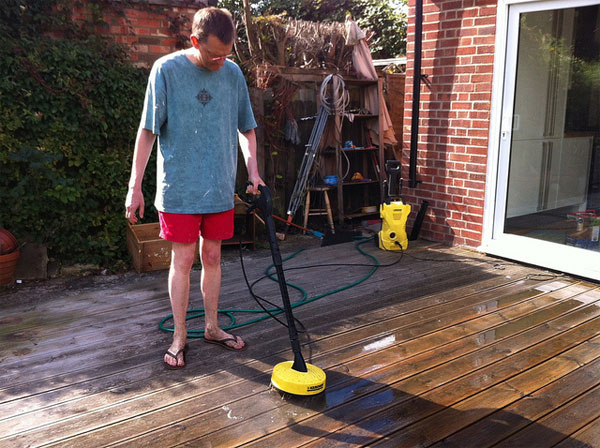 Surviving Winter
Winter is the time of the year that can cause the most potential damage to your decking. This means it is important to do as much as you can to protect it. If you intend on using your decking in winter the best way to protect it is to remove any debris and moss that may form. If you don't intend on using your decking then you could cover it with a thick protective sheet and secure down to prevent movement in the wind. Also it is a good idea to remove any furniture into a garage or shed or cover with a protective sheet.
So there you have it a few simple tips to keep your decking in tip top condition to enjoy throughout the summer.
The Photo Credit: geofones