Modern Android smartphones are small computers! Indeed, specs of some Android smartphones are amazing. 8-core processors, 3MB of RAM! Could you imagine something like this 2-3 years ago? This industry is moving at an immense speed. And this explains popularity of Android devices. They are not just phones but little computers you can use for fun and business. Yes, it's fun to use your brand new Samsung Galaxy S4 for business! There are plenty of phone with amazing specs and screens to enjoy doing business online. Away with boring stuff. Let's get down to business, i.e. list of the best Android apps for business. I guarantee you will never regret you got them for your Android smartphone.
What's the conventional way to manage documents using your Android smartphone? As a rule, you receive an email or notification and still head to the office or go home to get your hands at the PC or edit and send documents. Well, with Quick Office Pro you will forget about it. Download and edit docs in your smartphone. Moreover, there's an integration with popular cloud services to manage documents. In other words, having received a document for validation or editing you won't need to look for a PC to do your job. Quick Office is among top paid Android apps and this is the best proof that it is a worthy app (the majority of Android applications are free).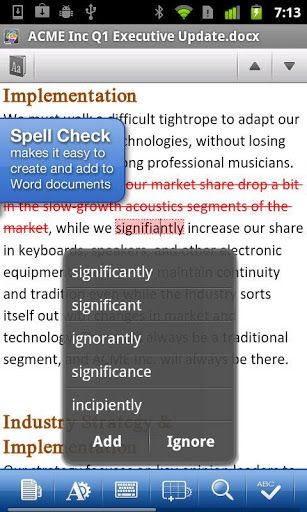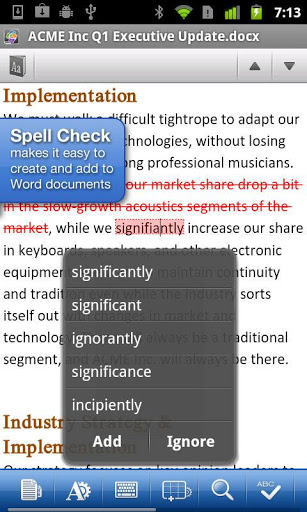 With a smartphone in your pocket you can browse files in your home or office PC, of course if it's on and allows remote access. Slashtop Remote Desktop will do the trick for you. In fact, this is a perfect way to manage your PC files remotes, from your Android device. You do have a reliable 3G connection  or WIFI around, so there should not be any problems with access. This is a life saving application sometimes.
Hats off, Google. 5GB of free cloud storage! You can have a smartphone with just 8 GB on board but host all your files in the cloud. Besides, Google Drive has a sync feature, so you can synchronize content across various devices you use in work, including your beloved Android phone.
Sorting out invoices can be a daunting task. So, Invoice2go will help you with your invoices and sending them to various recipients. Indeed, this is a handy app, with various features like changing logo, templates, customization of design etc. For sure, your invoices will look for professional.
Yes, again the wonderful Evernote. In fact, I cannot imagine my life without this app. Where else you can get this comfort of managing all your notes and sharing them with others? Evernote for Android is a great app with millions of active users, including business people. With evernote you will never forget to do a single thing!
That's it for today! Enjoy your Android smartphones and good luck in business! The green robot Andy can help you earn money and stay organized.
Aleksey hobbies is e-business, so he knows much about online e-currency exchange and relevant tricks.