It's Northern Lights season and we continue with our series of where to watch them with the eerily beautiful Iceland
It can be hard to talk about Iceland without using terms to describe its landscape as 'alien' or 'moon like', but due to the extreme environmental conditions onsite, with lava fields and Galciers abound, this island is truly Europe's Land of Ice and Fire.
Volcanoes dominate the island, shape its extreme landscapes and conjure up spectacular sights like the Svartifloss waterfall in Vatnajökull National Park, where the water cascades down volcanic basalt columns. The locals derive most of their energy from geothermal hot springs and burn very little fossil fuel making Iceland one of the cleanest air environments in Europe.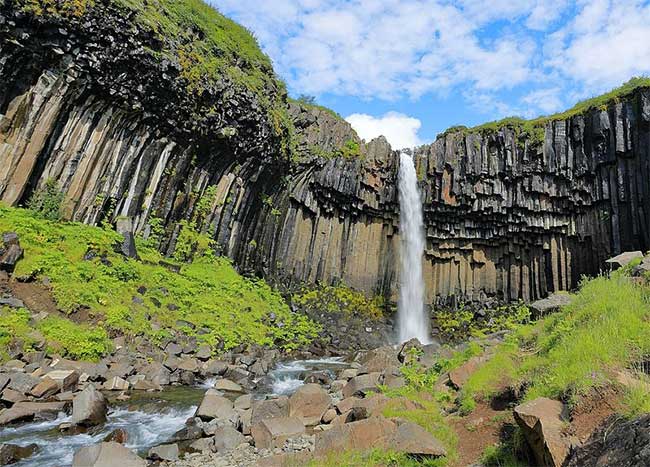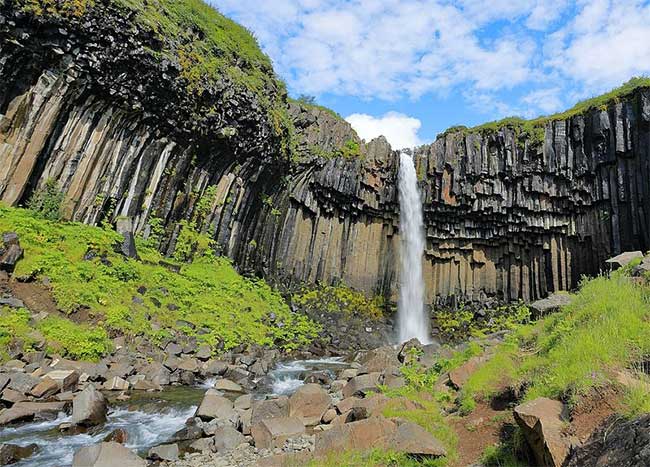 Iceland is littered with volcanoes, waterfalls, glaciers, raging rivers and hot springs, offering an abundance of options for adventure from the novice to the expert. Choose from hiking, biking, mountain climbing or salmon fishing; kayaking and rafting are also popular, as is going off road and exploring on Icelandic horses.
Caving is also a big tourist attraction, where you can explore lava caves with little or no guidance compared to the ice caves where more expertise (and equipment!) is required.
If all that adventure isn't your thing, why not try a slower pace in the former European City of Culture and Iceland's capital Reykjavik.  The city is relatively small with a population of just under 120,000, but it caters for everyone with nearly all of Iceland's one million visitors passing through at some point.
The city is well known for its many eateries of local cuisine, with the likes of fermented shark, puffin, Icelandic moss, wild mushrooms and dark and sweet rye bread on offer. If that doesn't grab your taste buds, there are plenty more traditional, international cuisines on offer too.
Reykjavik is also famous for its night life, where locals venture out at close to midnight and stay out till the wee hours. With all the nightlife located in one small part of the city, expect to venue hop frequently and open yourself up to all sorts of musical genres.
Ok I get that there's loads to do, but what about the Lights?
The best season to see the northern lights in Iceland is from September to mid-April – these are the months where there are fully dark nights. However, the old cliché "if you don't like the weather, wait five minutes" could not be truer of this country. The Lights are notoriously unpredictable and Iceland's weather is extremely variable due to the Gulf Stream which makes it surprisingly temperate given its latitude, so the best advice is to give yourself 5-7 days in the country. As like anywhere else you try to view the Lights, you need a clear crisp dark cold night for the best conditions, so you might have to wait a few days for those.
It looks like a great place to drive with all those scenic routes and roads
There are companies that cater for those wishing to drive around the island and will offer itineraries and advice, but you really need to be prepared before you venture out on your own. The roads on the perimeter of the island are car friendly and peppered throughout with small fishing towns and villages. The farther inland you go, the more extreme environments you will meet and some of those roads are inaccessible depending on the car type you have.
The other issue with driving in Iceland is that not all the roads are paved. There are gravel roads which get quite mucky in the wet. You can get gravel insurance which covers the cost of scratches and pock marks from the volcanic gravel.
That driving lark sounds a bit stressful, what should I do?
Relax. There are plenty of tours operating out of Reykjavik that will bring you to the Northern Lights, glaciers, volcanos, hot springs, whales and more. There are two spots to view the Aurora within walking distance from Reykjavik, away from the street lights just 15 and 30 minutes from town. Alternatively, and perhaps we've saved the best till last, why not take a tour to the secret lagoon and float in 38-degree water looking at the stars and that elusive aurora borealis. There's also an in-water massage included and underwater speakers to enhance your experience. It's a bit on the expensive side at around $260, but you will never be more chilled out and in awe at the same time.
Remember though, you don't have to go all the way to Iceland to catch the Northern Lights. Here's our first article on how to watch them from Inis Owen, Co Donegal. It's a relatively short drive away and you can get a car insurance quote from Liberty Insurance in less than 2 minutes.