Walking in a woman's shoes can be tough at the best of times, throw in a pregnancy and those shoes can feel decidedly tight and uncomfortable!
This feature from Laya Healthcare provides top tips on how to dress while pregnant and covers style and comfort, as well as a few must haves.
For all the joy being pregnant can bring, getting dressed and feeling good seems to be one of the parts women find toughest. Gone are the days when your skinny jeans were thrown on with abandon and it felt perfectly normal to blow your wages on the latest little black number. Now, bump in mind, your guilty pleasure is more likely to be your latest weird and wonderful craving or real pyjama's for bedtime.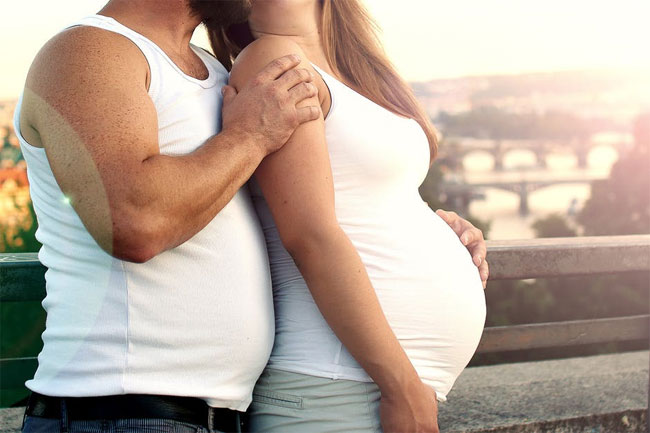 This emotional rollercoaster ride means we can sometimes forget that if mummy feels great, baby feels great. You may find it easier to reach for frumpy over fashionable but you also know that when you wear an outfit that makes you feel great (pregnancy or not), everything else in your day becomes easier! And boy do you need that little pick me up when you are carrying a real little person with you.
How you look and how you feel is so inextricably linked that it will mean the difference between mellow, calm, happy mum and stressed, slightly anxious, wanting-this-to-be-over mum. You should enjoy your wardrobe and your shape at this time and revel in its all-expanding glory. You will feel better, you will smile more and you will be much calmer.
When it comes to shopping for maternity clothes, affordability, practicality and comfort are key. Yes, the three can go together! It is about getting a good capsule that you love and that creates mix and match outfits easily, making your life easier also. It is about knowing what to spend more on and what you can spend less on! Here is my step-by-step guide to a stylish pregnancy.
Start from the Inside Out
Most women find they don't need to buy maternity clothes until around the three to four-month stage. The first signs of pregnancy are swollen and sore breasts, so get yourself a well-fitting bra.
Make sure you get properly measured. Be aware that your size can change up to four (yes four!) times during pregnancy. Also, anything that digs in or pinches can interfere with developing milk ducts. This is one of the most important reasons why you need to spend a little more here. Look to a specialist maternity shop or a department store you trust. The right bra will also help you feel better about your expanding waist as it will lift your boobs to where they should be, giving your waist more space!
Comfort is Key
Pregnancy may make your skin sensitive and your body temperature higher than normal so avoid fabrics that could be an irritant such as manmade fibres, (polyester and acrylic). Choose soft natural fibres like cotton as it's breathable and cool, and viscose, which is actually made from tree bark and also cool and comfortable. I love http://www.peopletree.co.uk/women/tops who are all about environmentally sustainable fashion. Their style and fabrics work beautifully for pregnancy.
The Expanding Tummy
As your pregnancy progresses, your tummy will need extra support, so invest in a maternity support band that you can strap around your bump. They are designed to take the strain from your lower back. I also love Spanx Power Mama Tights (€39), which will support the tummy and lower back much more than normal tights. A good pair of maternity leggings is a must also. They can be worn under dresses and with long tops and give you lots of comfort and flexibility.
Throw a Clothes Swapping Party
Throw a clothes-swapping party. Ban all men from your house, and invite round your pregnant friends, plus those who are already mums. The latter should have maternity clothes they feel more than happy to part with, and might like to borrow some of your clothes. The swap does not need to be permanent.
What to Pay More For
When it comes to specialist maternity wear I don't think it is necessary for all of your wardrobe. If you are petite especially as usually, the normal high street will have lots you can try, perhaps just in a couple of sizes bigger.
However, for leggings, support tights, underwear and jeans you will find a difference in the quality and support that is worth its weight in gold for those nine months! However, it can be nice to invest in a few quality items that will wash, wear and last but try to buy every few weeks to ensure clothes fit you all through your pregnancy, rather than all at once. Some of my favourite ranges include ASOS.com, Dorothy Perkins, H&M and Gap.
Experiment with your Style
So many women can lose their confidence in their style when they have had a little one. It makes sense. Your shape can be totally different and your life is not centred around you anymore. It is really important to embrace the new you, right from the start of that pregnancy journey. Have fun with your bump and your new shape. Experiment with a new world of fashion. Don't try to cover your bump, show it off in shapely items that make you feel comfortable. This will help you afterwards to maintain a fresh approach to your style.
Accessories are key
Treat yourself to some lovely accessories. They stick by you through regardless of your size and they tell the world how fabulous you are before you've even said a word. They also allow you to put your unique mark on your simple basics and can make an outfit feel 'done'. I recommend a stack of cool, long and colourful scarves and necklaces, rings, bangles, handbags and funky (comfortable!) shoes.
Top Items for your Wardrobe
A wrap top, which will work right throughout your pregnancy as it can be altered as you grow.
A soft pair of denims with an expandable waist. I love Gap for maternity jeans but the high street has a lot to choose from.
A cape style coat or throw over wrap that will work during and after your pregnancy (Ted Baker and Debenhams always have a good selection).
Good-quality cashmere jumpers and cardigans that are a little longer. They are smart, ultra-soft and comfortable.
Flat leather boots. Shoes can be a nightmare when pregnant. You may not feel like heels all the time and good boots can be worn with dresses, skirts and trousers.
Final Tips!
Use the Internet to ask questions. There are so many great blogs, research tools and sources of information out there now, don't be afraid to use them! Check out pippa.ie where the stylish Pippa O'Connor is sharing her bump journey and all her stylish purchases and tips!
Buy clothes in your normal size, not a size up.
Do not be afraid of colour while pregnant. In fact, studies show wearing brighter colours and patterns during your pregnancy makes you livelier and hence your baby happier.
Explore the Laya Healthcare site for more information on health insurance cover options for your family or to get a health insurance quote online today.