When the clock strikes 12 next New Years, most of the world will be watching the skies as fireworks explode among the stars. They have become synonymous with the date, as their colourful and thunderous displays mark the turning of the calendar and the start of something fresh for all of us. Let fireworks represent the start of something new at your event, by planning your New Year's Eve party around an amazing fireworks display.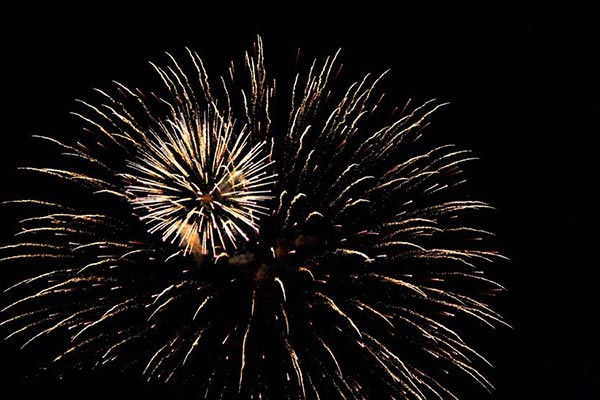 Fireworks have always represented something important ever since they were invented. They were first used to mark the removal of evil spirits in Chinese cultures, guaranteeing these societies luck and happiness. As firework technologies progressed over the years, the reasons why people used them grew too. By 2015, they have been used to celebrate many things, including the birth of royal babies, sporting events, holidays, and New Year's just to name a few.
With a wide variety of styles, there is a firework that's right for any celebration. There are Roman candles, which are similar to shooting stars in the way they explode; or there are mortar shells, which are equipped with a long fuse that allows a variety of large, differently shaped bursts to explode after you light it. Of course, you can also choose from fountains that spray an impressive amount of lights straight up before they cascade back down around the base in different colours.
When there is such a variety facing you, it's easy to get overwhelmed. You can avoid firework anxiety by trusting in the industry's leading fireworks retailers. With a massive selection of fireworks they can help you find the right displays for your New Year's Eve party. Their professional display artists can create a beautiful, customized display for any budget. These specialists offer personalized packages that include everything—not just the fireworks. They'll handle insurance, permits, preliminary site inspection, and post-display clean-up to ensure that your event is a success. But if you prefer to be your own display artist, you can visit these same retailer's websites to browse their catalogue of product on your own. Categorized by type and popularity, you can read the descriptions of every kind of firework that they offer. You'll notice how low their standard prices are, as each individual firework and their combo packages are so competitively priced they cut well below the retail price.
New Year's is a time-honoured way to celebrate the end of the old and the beginning of the new, and there is no better way to do that than with fireworks. You can create your own amazing display for your party by going online to browse through the best selection and prices. You'll be sure to start your New Year with a bang.