Origin of Fender
Fender is a premier electric guitar manufacturing company that was founded in Fullerton, California by Leo Fender in 1946 by the name of Fender Electric Instrument Manufacturing Company (Currently known as Fender Musical Instruments Corporation)
About Fender
Fender is a renowned name in the musical instrument industry for manufacturing various types of guitars and amplifiers. The rich history of Fender guitars begins with the Telecaster, which is responsible for revolutionizing guitar playing. As the world's first successful solid-body electric guitar, it has changed the sound of music, and became a popular instrument for the guitarists worldwide.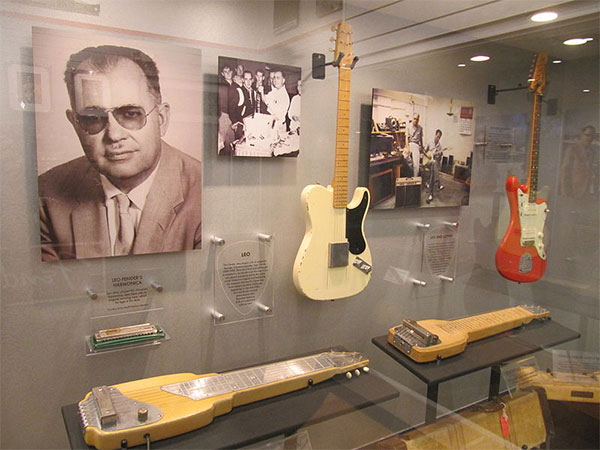 Fender started by mass-producing solid-body Spanish-style electric guitars, named the Telecaster, and is known to be the first successful electric guitar to be sold on a mass scale in history.
Fender designed various kinds of guitars including bass and electric guitars. Fender also designed different types of amplifiers.  His guitars and amps are still widely popular among musicians and the general public. Due to their distinctive design and sound, Fender proved to be a strong candidate in the music industry, and still rules the market with its high quality products.
 A History of Fender Instruments
Fender used effective design technique and materials for manufacturing their guitars. These guitars are designed to produce high quality music and have set a distinctive trend in the field.
Esquire was one of the initial guitars designed by Leo Fender. It gained immense popularity in the early 1940s, and was a default choice for musicians.
One of the most popular instruments by Fender was Telecaster, which was the real key to its success. It was, and still is, one of the most popular electric guitars; known for its hot-rod customization. It has a full solid body design which uses various different pickup configurations to produce master sound.
The Stratocaster is another product by Fender, and is often preferred over other competitive products. It was an electric guitar designed especially for individual musicians and singers who loved to play in concert.
Some of the other popular Fender instruments include:
Guitars like Mustang, Jazzmaster, Jaguar, Starcaster, Duo-Sonic
Basses like Jazz Bass, the "Telecaster Bass"
Electric Violins
Fender Rhodes electric piano
Fender is Popular among the Stars
Fender guitars have also gained fame amongst legends, musicians, and music band studio recordings. Fender Telecaster was the favourite instrument of legendary Jimmy Hendrix. Other members of "Rock Royalty" also prefer these wood body guitars for its performance. Jeff Deck (Rock guitarist), preferred Stratocaster in his initial period. He also used to give a signature start to the instrument in his performances. Many of these singers and guitarists built their careers using this specifically designed electric guitar. Some more of its users include Frank Black, Mike Campbell, Albert Collins, Bob Dylan, George Harrison, Jimmy Page and James Burton.
Mark Knopfler was a famous British singer and guitarist who loved to play Stratocaster and Telecaster. Another design, Fender Esquire, was used by Bruce Springsteen, who is also known as "The Boss."  Syd Barrett also played Fender Esquire. Other famous Stratocaster players include Ritchie Blackmore, Tommy Bolin, Bill Carson and Adrian Belew.
Image credit: Wikimedia Commons